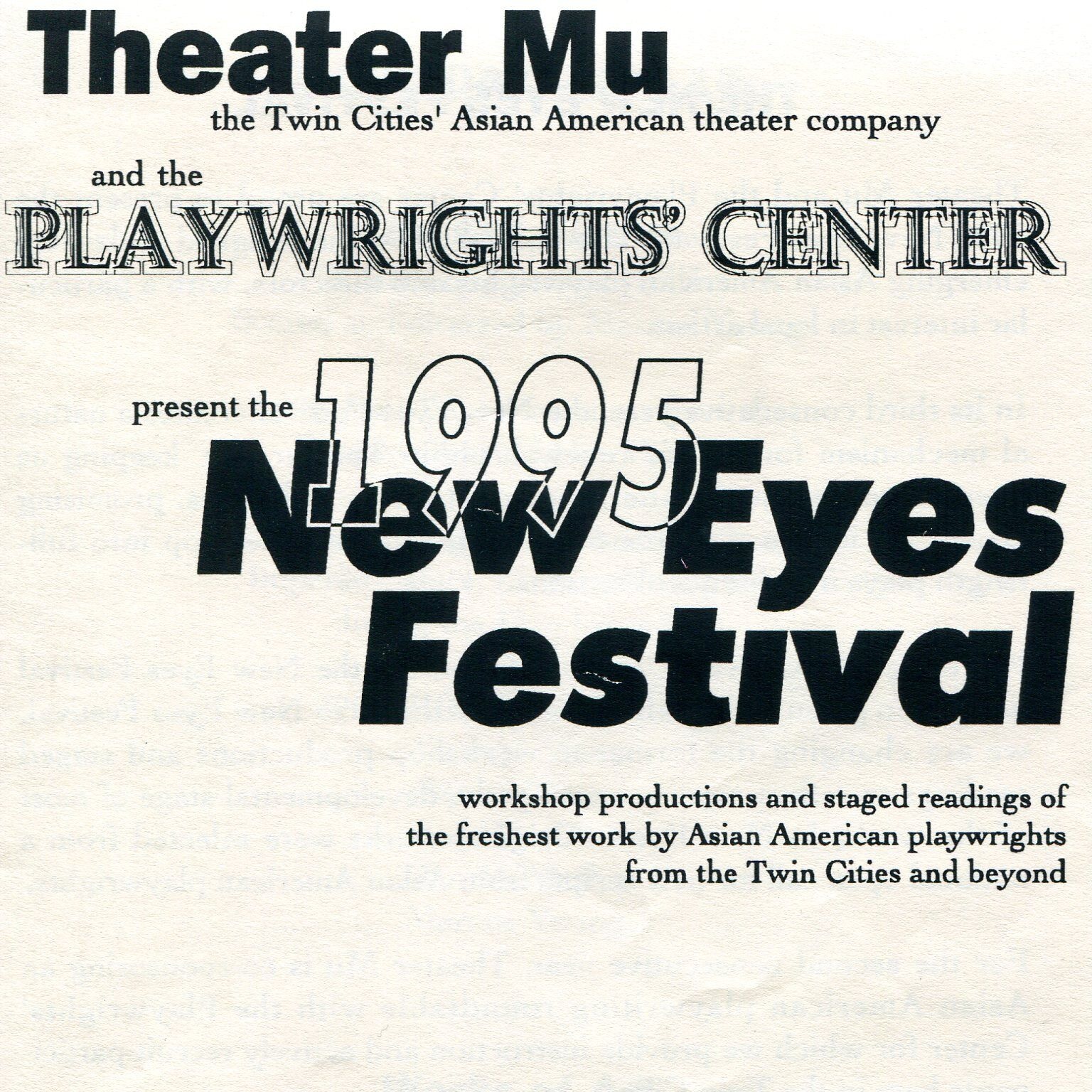 NEW EYES FESTIVAL OF NEW WORKS
This annual festival is designed to develop emerging Asian American playwrights and directors, with a particular interest in local artists. In its third consecutive year, the New Eyes Festival creates a natural mechanism for artistic renewal within Theater Mu, keeping us open to new Subject matter, Theatrical forms and styles, promising artists.
VENUE INFO
The festival will take place at The Playwrights' Center, located at 2301 E Franklin Ave, Minneapolis, MN 55406.
THE CUT SLEEVE
by DAN MCMULLIN
directed by MARCU YOUNG
CAST: Damian Hess, Shoua Moua, Joe Germano, Dan McMulin, and Marcus Young
WORKS OF ART
by PAUL H. JUHN
directed by RICK SHIOMI
CAST: Daniel Sach Le, Annie Lee, Justin E. Woods, Sara Dejoras, and Kiyoko Motoyama
ORIENTALITUS
by JUSTIN CHIN
directed by LUU PHAM
CAST: Damian Hess
R.A.W. ('CAUSE I'M A WOMAN)
by DIANA SON
directed by SANDRA J. AGUSTIN
CAST: Kiyko Motoyama, Sara Dejoras, Annie Lee, and Kathryn Hae Ryun Leo
CLEVELAND RAINING
by SUNG J. RNO
directed by LIA RIVAMONTE
CAST: Paul H. Juhn, Sara Dejoras, Sandra J. Agustin, and Justin E. Woods
OUR HMONG LIVES NOW IN AMERICA
by The Hwong Women's Support Group of Webster Open School
directed by SANDRA J. AGUSTIN
CAST: Genny Yang, Lisa Yang, Mary Vang, Sandy Vu, Pakou Vang, Pakou Vang, Mayle Vue, and Youa Yang
S.A.M. I AM
by GARRETT H. OMATA
directed by DIPANKAR MUKHERJEE
ROBERT
SCHATT
Stage Manager
TIMOTHY
DIXON
Assistant Stage Manager