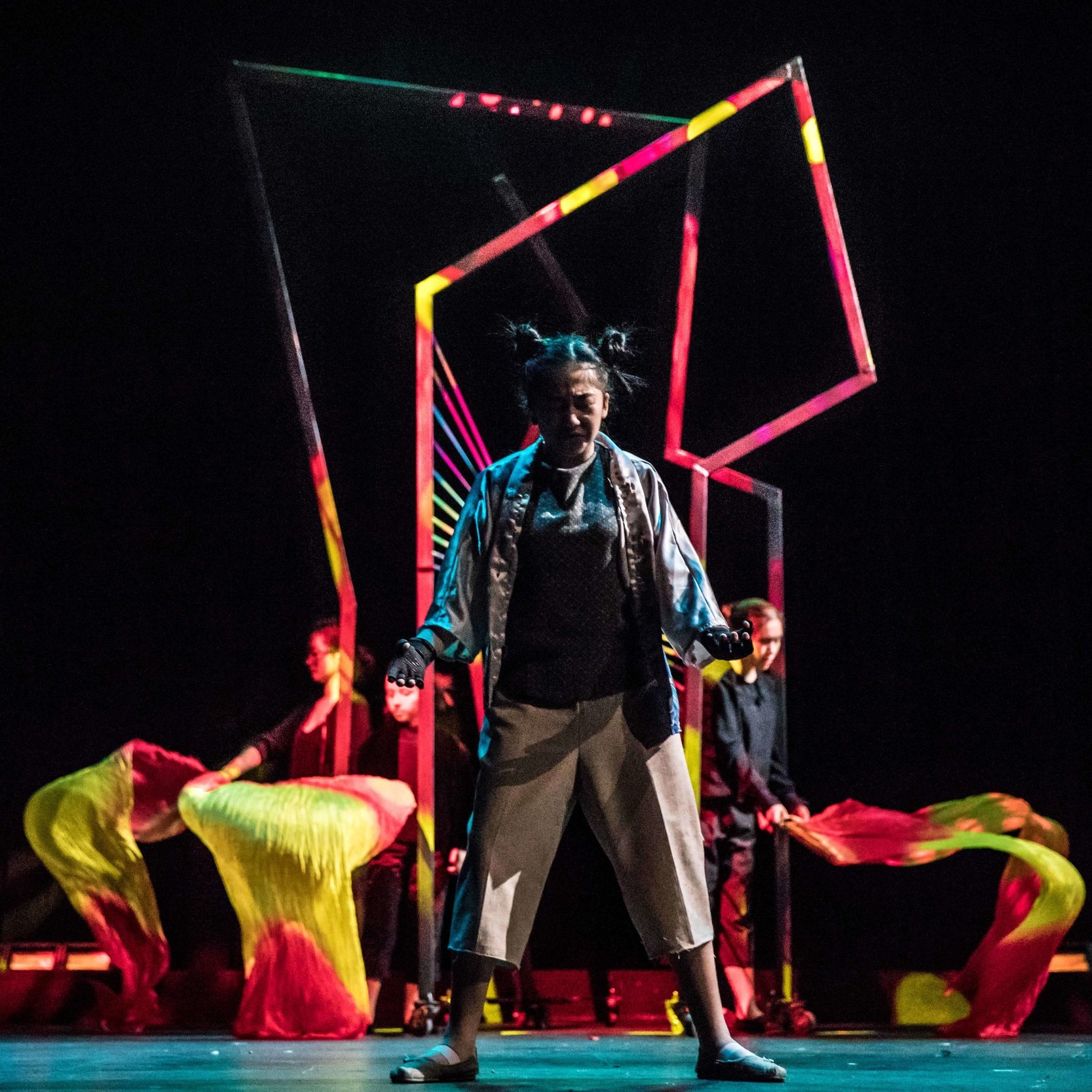 by NAOMI IIZUKA
directed by DAISUKE KAWACHI
March 21 - April 7, 2019
THEATER MU & STEPPINGSTONE THEATER PRESENT A SHOW FOR THE WHOLE FAMILY
It begins with light and a flash. Then comes a sound, a pulse, a beat, a crash like a giant hammer smashing through the sky. The fantastic story of Boom, the child of Thunder, is a mythical adventure about discovering one's inner strength. After being forced out of the home at the hand of a cruel stepfather, Boom sets out on a journey of self-discovery where battles against forces of nature are courageously fought. Along the way, Boom encounters conflicts with animals of an enchanted forest. This epic tale combines Japanese fairy tales and folklore to create an exciting theatrical experience for young audiences.
DATES
March 22 - April 7, 2019
TICKET PRICING
We strive to voice the stories of the Asian American community, and in order to bring performances to those communities whose stories they tell, we are committed to make them as accessible as possible. PAY AS YOU ARE pricing asks those who routinely pay $35 for theater tickets to choose to pay that amount; it is the actual fair market value of the ticket. If an audience member needs to pay less, they can choose to pay less – as little as $5 per ticket.
BECOME A PLAYMAKER
Donate $20 or more when you purchase a ticket and become a playmaker. Ticket sales only cover a third of actual production costs. Playmakers help make strong performances possible by helping to cover the real cost of a play.
VENUE INFO
THE LAST FIREFLY will take place at SteppingStone Theatre located at 55 N Victoria St Saint Paul, MN 55104
For directions or parking information, visit SteppingStone's Location Page.
ACCESSIBLE PERFORMANCES
Audio Described Performance: March 29 at 7:00 PM
ASL-Interpreted Performance: March 31 at 3:00 PM
SCHOOL MATINEES
Please call 651-225-9265 to reserve group tickets or visit SteppingStone's Group Visits page for more information.
* DENOTES MEMBER OF ACTORS EQUITY
SARA OCHS
Assistant Director
LIZZIE STREIF
Stage Manager
EMIKO HINDS
Assistant Stage Manager
SARAH BRANDNER
Scenic Designer
MEGHAN KENT
Costume Designer
TONY STOERI
Lighting Designer
DAMEUN STRANGE
Sound Designer
ABBIE KROHN
Props Designer
ANNIE ENNEKING
Fight Choreographer
FEATURES
PIONEER PRESS
Theater Mu, Steppingstone collaboration melds youth and stage vets — seasoned with a dash of Kabuki
TWIN CITIES AGENDA
Trauma and Light: Theater Mu and SteppingStone team up for "The Last Firefly"
MINNESOTA MONTHLY
Practical Magic in "The Last Firefly"
TWIN CITIES ARTS READER
INTERVIEW: Daisuke Kawachi And Sara Ochs On Directing The Last Firefly
REVIEWS
COMPENDIUM
"It inspires a passion in the hearts of kids to learn more about theater and one day decide how they want to remain engaged with that world. I think that's an honorable cause, and one I don't see a lot of local companies take."
NAOMI IIZUKA's plays include 36 VIEWS, POLAROID STORIES, ANON(YMOUS), LANGUAGE OF ANGELS, ALOHA, SAY THE PRETTY GIRLS, TATTOO GIRL, SKIN, AT THE VANISHING POINT, CONCERNING STRANGE DEVICES FROM THE DISTANT WEST, LAST FIREFLY, CITIZEN 13559, and WAR OF THE WORLDS. Her work has been produced by Guthrie Theater, Actors Theatre of Louisville, The Children's Theatre Company, The John F. Kennedy Center for the Performing Arts, Huntington Theatre Company, Berkeley Repertory Theatre, Geva Theatre Center, Portland Center Stage, The Public Theater, Campo Santo and Intersection for the Arts, Dallas Theater Center, The Next Wave Festival at Brooklyn Academy of Music, Soho Repertory Theatre and Edinburgh International Festival. Her work has been workshopped at Sundance Theatre Lab, Midwest PlayLabs, New Works Now at The Public Theater, Performance Space 122, Manhattan Theatre Club and Seattle Repertory Theatre. Her plays have been published by Theatre Communications Group, Smith and Kraus Publishers, Inc., Heinemann, Playscripts, TheatreForum and American Theater. Ms. Iizuka is a member of New Dramatists and the recipient of a Joyce Award, a PEN/Laura Pels Award, an Alpert Award, a Whiting Writers' Award, a Stavis Award from the National Theatre Conference, a Rockefeller Foundation MAP grant, an NEA/TCG Artist-in-Residence grant, a McKnight Fellowship, a PEN Center USA West Award for Drama, Princeton University's Hodder Fellowship and a Jerome Fellowship. She is the head of the graduate MFA Playwriting program at the University of California, San Diego.