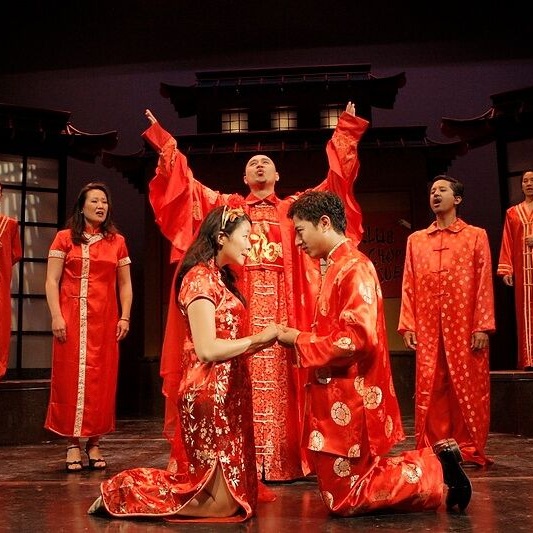 music & lyrics by RODGERS & HAMMERSTEIN
book by DAVID HENRY HWANG
directed by RICK SHIOMI
June 27 - July 12, 2009
In Tony Award-winner David Henry Hwang's new adaptation of the Rodgers and Hammerstein classic, Wu Mei-li flees communist China and finds herself in San Francisco's Chinatown. This naïve young refugee is befriended by Wang Chi-yang, who is struggling to keep the Chinese opera tradition alive despite his son's determination to turn the old opera house into a swingin' Western-style nightclub. The unique blend of American razz-ma-tazz and stylized Chinese opera traditions creates a beautiful theatrical tapestry in this lovely new version of an American classic.
DATES
June 27 - July 12, 2009
BECOME A PLAYMAKER
Donate $20 or more when you purchase a ticket and become a playmaker. Ticket sales only cover a third of actual production costs. Playmakers help make strong performances possible by helping to cover the real cost of a play.
SHERWING
RESURRECION
Wang Ta
MELISSA
BECHTHOLD
Madame Rita Liang
ERIKA DANIELLE
CRANE
Ensemble
STEPHANIE
BERTUMEN
Ensemble
STEVEN
FRANDENFIELD
Ensemble
JENNIFER
WEIR
Assistant Director
ANITA
RUTH
Musical Director
EMMA
VALENTINE
Assistant Stage Manager
SANDRA
AGUSTIN
Choreographer
TIANJIANG
CUI
Chinese Opera Choreographer
JOSEPH
STANLEY
Scenic Designer
CANA
POTTER
Costume Designer
WU CHEN
KHOO
Lighting Designer
FOREST
GODFREY
Sound Designer
KRISTIN
LARSEN
Master Carpenter